eeny meeny blog post about a few things I have picked up this week!
The mini benefit stuff
Some kind-a gorgeous
Badgal Lash
Hoola
Were given to me as a late birthday present from my friend Rhea, I know what I'm like with foundation so if i used the mini pot of some kinda gorgeous it would be finished with within about 2 uses so just using it as a thicker concealer for any blemishes and around areas like my nose and chin, where i find my foundation comes off quickest. BadGal Lash is a great mascara, I think its mainly because of the thickness of the brush, I haven't really got round to using it properly but I've had it before and I'll have it again and finally Hoola never ever tried a benefit blusher/bronzer before but this came in my little box of treats and so far I like, Again I haven't used it properly because I haven't had the chance to have a full face of make-up but from what I have seen, so far so good, a matte bronzer which I prefer because you can use it to contour and I really don't like shimmery bronzers, especially if not done correctly.
Next on my list is my Maybelline dream fresh BB..I am really don't know weather I like this product of not.. There has been such a big hype about new BB products so I thought I would give it a try, I think I need to explore with a more expensive make before I can make my mind up on BB as a whole. I did really like it when it was a littler warmer last week but now its got colder I feel like my skin needs more coverage, plus its so god damn watery! Every time I open the lid there is so much wastage from it leaking, so chances are this product is going into my 'Never use this again' bag.
Next I bought the John Frieda Go Blonder lightening spray. I have been dying my hair blonde since I was around thirteen and of course it has taken its toll on my hair. I am LONGING to get my hair nice, long and healthy but I know that putting on dyes every other month is not helping me in the slightest! The sun has gone and my hear is looking a little miserable and dull and the devil on my shoulder is telling me to get to the hair dressers asap and get that bleach on me now and then the angel is saying no, protect your hair and leave it for a bit... But I can't be walking around like a dull haired diva so instead I have invested in John Frieda Go Blonder lightening spray just to see if it will brighten my hair and cause less damage. The bottle claims to lighten my hair within ten washes so I'm going to do a post and a proper review once used properly!!
and finally I bought Primed & Ready by collection 2000.. I think this is their first line of prep products so I thought I'd give it a go at £3.98 no ones complaining and also a lip liner from No 17 in Rose Blush, bought this entirely to try and do the make your pout look bigger trick!
and FINALLY FINALLY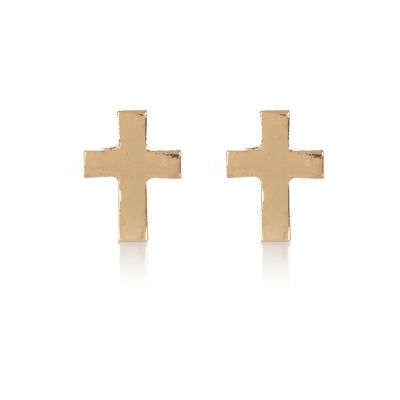 Got these cute gold cross earrings from River Island in their Under £5 collection, was just browsing and have £1.50 change in my pocket so picked them up! Really cute for just every day !!
Hope you enjoyed my mini haul which then ended up to be a bit of a review as well haha!